It's
International Woman's Day
and, like most days that are celebrated, I am filled with mixed feelings about it all. I just can't help but see first the things that make us most alike and can connect us; then I see the differences. Maybe it's the naive child that lives on in me. But to appease the woman I have become and the trials I have gone through, largely because of my gender, I thought it would be a sort of purification ritual as well as a celebration of my womanhood as I feel myself transition into the archetypal crone.
For me being a woman started out as a dream of being a wife that would stay home all day and cook and maintain the household of my husband. Life decided I needed to start working at a young age and I fell in love more with working than I ever imagined I could a man. My dreams grew bigger, my heart exploded every day as I fell in love with my work, learning how to be better everyday and becoming hopelessly devoted to caring for patients. The fun I had was confusing to some, even me but I was in love. My career was my first love when I got married and my womanhood was challenged as I let my younger self down as a wife and mother.
Being a woman began to mean that I could have it all but only at the fears, insecurities and disappointment of those I loved the most and eventually me as well. Being a woman meant being incredibly creative with learning how to navigate my sanity in the vast sea of disappointment. As my heart grew more and more broken being a woman began to mean that I had to learn how to put myself back together again and love with all of the broken pieces of my heart at the same time.
For years, being a woman meant being punished for being sure of who I was and wanting nothing but to love people and how confusing that was to others. Being a woman, I later realized, meant that when you step in to your true power it can make the insecure forcefully pleasant or violent and the self-assured simply proud for you. Being a woman who wants secular success as well as success in love is selfish. Being a woman means you will be challenged to compromise your integrity, values, morals and even health almost daily for the sake of the male ego.
Then one day, being a woman meant having a choice. Being a woman meant having a choice in how much I allowed pain and suffering into my life. Being a woman meant I was sensual and in love with every savory aspect of living and I could be a sexual being without needing to have sex. Being a woman meant that I didn't need to experience the act of sex to feel empowered, valued and loved. Being a woman means that you can easily confuse a man with this ability and how they respond to their confusion tells you everything you need to know about them.
Being a woman has given me the opportunity to explore my creativity from writing to photography and countless things in between as I learn to appreciate the wisdom my choices (and lack thereof) had brought me. Being a woman means that I may have to work harder to prove myself and to be taken seriously but once I do it gives me a greater sense of pride than any appreciation, commendation or opportunity that is casually handed to me would.
Being a woman has taught me that with age you can grow in deeper love or deeper bitterness and that we can choose love. Being a woman means I have a greater responsibility to use my feminine energy to nurture and compassionately care for those who are in pain because it's part of who I am.
Being a woman showed me the honor and privilege of falling in love with a little human before anyone else could.
Being a woman means I knew motherhood and a bond that lasts forever. Being a woman has filled me with pride whenever I feel my nurturing side co-existing with my creative and productive side.
On the topic of letting go a male friend once told me that he believes women have to experience this lesson more often and on a deeper level than men ever could. What an insightful and beautiful truth! Something about the way he expressed it made me feel connected in a deeper and more meaningful way to all the other women that have ever existed. Being a woman teaches us the literal and figurative way to cut cords and the pain we go through each time.
The biggest lesson I have learned as a woman is that if it wasn't such a profound and insurmountable gift then womanhood wouldn't even be a topic of conversation. It would just 'be'. We would embrace womanhood in all it's differences from manhood.
Being a woman means we get to define beauty from the inside out... in all its forms.
Womanhood is a delicate gift but society has a way of telling us that manhood and all of its ways are all that can be heard, respected and appreciated so women try to learn the language of men. Women become louder, more creative, more clever, more successful only so that we can feel more comfortable being ourselves. Being a woman means making a conscious choice to be uncomfortable almost every single day in order to hopefully feel comfortable in our workplace, home, on the street, or anywhere in public. Being a woman means being as uncomfortable as possible for our daughters, our nieces, and all the little girls that don't quite know the battle they were born into. Being a woman means that we are meant to bring the world together, not tear it further apart.
When women step into their true feminine power they become a powerful and compassionate force that will help us learn to work together, cooperatively.
What does being a woman mean to the other women reading? Message me or comment!
Nothing like a professional photoshoot to help you embrace who you are and who you are becoming in all of our sensual elegance. Visit my friend Kim's site if you're in the Phoenix area! ​
Good Vibes Photography
Powered by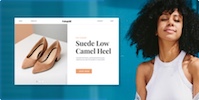 Create your own unique website with customizable templates.